11
Sep
2017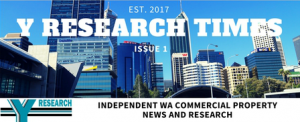 Welcome to the 1st Issue of Y Research Free Monthly Newsletter –
Y Research Times.
In this issue, we cover:
The release of our Office Not Occupied Index. This measure devised by Y Research, outlines the number of office properties in metropolitan Perth, with vacancies larger than 1,000 sq m, that have been vacant for more than 12 months. The Index was developed to identify properties that significantly contribute to Perth's current level of office vacancy as well as examining the impact of flight to quality on non-CBD markets and secondary properties. For more information visit: HERE.
The key numbers and implications for the WA property sector arising from last week's State Budget. While the sector was spared further increases in property taxes, there are some interesting numbers regarding Government office leasing, land sales, public transport and business activity in the full Budget papers. If the Budget could be summarised into a single word, the word would be 'restraint'. Find out Y: HERE.
In recent months, Y Research has been involved in a thought leading project for the City of Perth. Through lead consultant's architects CCN, Y Research provided market research data and market commentary for an in depth study looking at potential uses for vacant, C Grade office properties. Could today's vacant office buildings be the schools, hotels or shops of tomorrow? Find out: HERE.
Y Research Update
In August we partnered with the CBA WA Property Finance for a presentation on What's Next for Property in WA. At the centre of any recovery for WA property markets and the economy more generally – are jobs and investment. Medical, child care, aged care and hospitality are forecast to be key drivers of job creation in WA over the next 5 years and as a result will play an increasing role in WA property markets. Thanks to Kevin Stanley, National Head of Property Strategy and Research for CBA who joined me as a co-presenter and Chris Carey Relationship Executive – Property Finance at CBA in WA for organising the event.
We have recently completed – a major study on shared work spaces (co-working and serviced office) and technology companies and market commentary/tenant identification studies on selected suburban office markets for clients.
Our next public speaking engagement is at REIWA's Commercial Connect Conference on the 22nd of September at the Crown. Topic of the presentation is WA commercial property – After the boom. Find out more information on the Conference: HERE.
Problem solving is in our DNA at Y Research – Our original ideas have led to unique insights into Western Australia's office, retail, residential, industrial and tourism markets over the last 5 years. Our future work is building on our record of problem solving and growing to cover sectors such as health care and child care.
But we are always on the lookout for good problems. If you have a property problem in need of solving, contact our Chief Problem Solver, Damian Stone.
Thank you for reading the first issue of the Y Research Times. We would love to hear what you thought of this issue or any suggestions for future issues. Please send through any comments to Damian Stone.