28
May
2019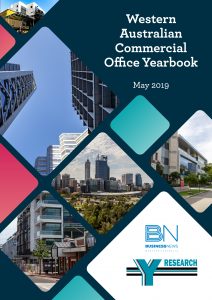 Y Research is proud to announce our brand new Report, the WA Commercial Office Yearbook, is now available.
Produced in partnership with Business News, the Report consolidates our Perth CBD, West Perth and suburban office research into a single report. Copies of the Report, or a free sample, can be ordered from Business News, via the following link: HERE.
Covering over 4 million square metres of office space across 2,500 buildings, the Report provides the most comprehensive overview of metropolitan Perth office markets available. The Report outlines – major tenant moves, vacancy rates, development pipelines, market rents, outgoings and car parking rates.
Markets covered include the Perth CBD, West Perth, Subiaco, Herdsman, Northbridge, Midland, Fremantle, Belmont, South Perth, Joondalup, Perth Airport and Applecross.
Also included are valuable insights from:
• ACORPP (Leasing incentives),
• CDI Group (Fit out costs),
• Colliers International (Office sales in 2018),
• CCN (What can we do with old office buildings?),
• Mills Oakley (Legal advice), and
• MKDC (latest trends in office design).
If you have any questions regarding the Report or would like to meet to discuss our research, please don't hesitate to give us a call.