19
Sep
2019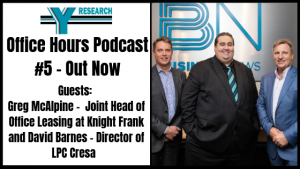 This month's episode of Office Hours focuses on the Perth CBD office market. The episode provides an agent's and tenant's perspective on current market conditions and trends.
In this edition, I am joined by leading Perth office leasing agent, the Joint Head of Office Leasing for Knight Frank, Greg McAlpine to discuss recent office vacancy figures, market trends (flight to quality/centralisation), expectations on market rents and incentives and the timeline for future supply.
Later in the podcast I talk with leading tenant advocate, David Barnes, Director of LPC Cresa, about current market conditions for occupiers; have leasing incentives brought forward too many renewals?; impact of changes to international accounting standards and tenant centric design. Finally we try to determine what tenants want and value from office owners and managers by playing a new game, Dealbreaker.
You can listen to the podcast, HERE.
Have a topic you would like explored in a future episode? Let me know, would love to hear your thoughts.
Enjoy listening.