15
Jul
2019
The latest episode of Office Hours, my podcast as part of the Business News podcast network, is out now.
You can listen via Soundcloud, click HERE.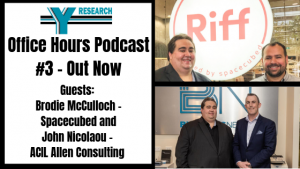 We put jobs front and centre in this edition of the podcast.
We discuss the changing nature of WA's labour market and how those changes are reflected in commercial property use. My first guest is John Nicolaou, Executive Director of ACIL Allen Consulting. We discuss the future of work in WA with the rise of the gig economy and AI (3.30 mark). We then examine WA's labour markets looking at the outlook for job creation across the resources, public and healthcare sectors (8.54) as well as highlighting emerging industries (24.50).
I am then joined by the godfather of co-working in WA Brodie McCulloch to discuss the rise of shared work spaces globally and Spacecubed locally (33.33). We cover a range of topics including: – Who uses shared work spaces? (44) – the importance of community and offering more than a desk in shared work spaces? (50) – the likely impact of new shared work space operators opening in Perth (101.55) – the potential for Spacecubed to open in the suburbs (108.55).
Really enjoyed this one. Thanks to John and Brodie and producer Dan Wilkie. Hope you enjoy listening.