15
Jul
2019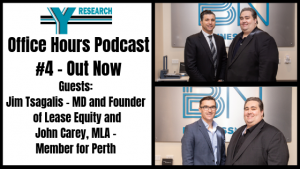 Retail property from shopping centres to main streets are the focus of the fourth episode of Office Hours.
In this edition, I am joined by the Managing Director of Lease Equity, Jim Tsagalis to discuss what's happening with the $5 billion dollar pipeline of shopping centre developments, the competitive position of retail markets in the CBD and retail strips, the impact of Aldi and platforms such as Uber Eats/Deliveroo and his insights on likely new retailers coming to WA and his thoughts on some of the best retailers in Perth.
Later in the podcast, I talk with the Member for Perth, John Carey, MLA. We analysed the current market along Beaufort Street, looking at the role of property owners, retailers and the public. We discuss policy levers such as a potential Vacancy Tax that could be adopted, the need for greater stakeholder engagement and moves to increase density.
You can listen to the podcast, HERE.
Have a topic you would like explored in a future episode? Let me know, would love to hear your thoughts.
Enjoy listening.