22
Jan
2017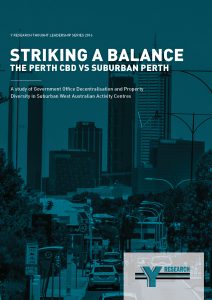 Y Research has released its latest Thought Leadership Report. Entitled Striking a Balance: The Perth CBD vs the Suburbs, the Report:
Analyses how the announced Government Decentralisation of office space to Bunbury, Fremantle and Joondalup will impact these markets as well as the Perth CBD;
Reviews the performance of WA suburban office markets factoring in their current level of Government occupied office space; and
Examines the diversity of property uses such as office, retail, residential, medical across 24 suburban activity centres in metropolitan Perth using Y Research's new Activity Centre Diversity Index.
If you are interested in obtaining a copy of the Report, please contact Y Research Principal, Damian Stone.