06
Jun
2017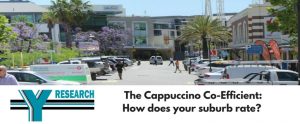 For many of the 100,000 West Australian's who work in office buildings outside the Perth CBD, waiting 10 minutes in line for a morning coffee, or struggling to find a seat in the one cafe with a decent ham and salad sandwich, is a daily occurrence.
This a problem that I have experienced first hand during in-field data collection and review for our research Reports. Whilst I believe that their is no substitute for data accuracy than visiting a site myself, I have equally found that in many suburban locations there are limited substitutes (that are convenient and accessible) beyond my standard Subway sandwich.
To examine this issue as part of Y Research's June 2017 West Australian Suburban Office Market Report, we developed the "Cappuccino Co-Efficient" – a measure to rate each suburbs' amenity.
The analysis determined the number of food and beverage options non-CBD office workers had per suburb. These include cafés, lunchbars, taverns and fast food. The approximate number of office workers was then determined using the occupied stock from the 51 non-CBD office markets with more than 5,000 sq m of office space.
The Cappuccino Co-Efficient is the number of office workers per suburb/the number of food and beverage options available for office workers.
On average across Perth, for each food and beverage option in a suburb, there was 1,469 sq m of office space and 79 suburban office workers.
Suburbs with major shopping centres, such as Claremont, Morley, Innaloo and Cockburn Central and retail strips, such as Inglewood, Mount Lawley, Highgate and Mount Hawthorn, rated the highest in terms of amenity. Claremont, due to the Claremont Quarter Shopping Centre as well as options on Bayview Terrace and Stirling Highway, rated the highest with just 14.2 office workers per food and beverage option. Morley, due to the Galleria and Coventry Marketplace, provides a food and beverage option for every 14.4 office workers. Below is the balance of the top 10 performing suburbs. It should be noted that these suburbs are relatively small office markets with less than 25,000 sq m of office space.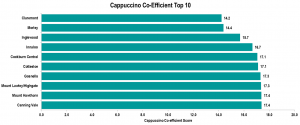 Conversely, suburbs such as Herdsman, Subiaco, Perth Airport, West Leederville, Rivervale and Stirling which have grown as office markets by more than 50% over the last decade have not recorded matching growth in amenity. In Herdsman, there are 1,363.5 office workers for every food and beverage option. In West Perth, which now has over 100,000 sq m vacant, there are 308.5 office workers per food and beverage option. This explains the move of a number of tenants to the Perth CBD and Subiaco which offer better amenity and public transport links.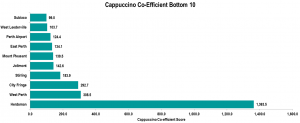 The results of major office markets, such as Herdsman, East Perth and Subiaco, is due to the fact that the growth of suburban office development over the last decade has not been matched by retail amenity. Over 44% of metropolitan office supply is now located outside the Perth CBD and West Perth. Since the Perth CBD reached global lows with a office vacancy rate under 1% in 2007/08, nearly 500,000 sq m of office development has occurred across Perth's suburbs.
The movement of office workers has largely been unmatched by the development of accompanying retail offerings. Less than 10% of suburban office developments contain their own in-house café. Office workers are reliant on amenity offered in the immediate surrounds of office hubs for their daily coffee or sandwich. In suburbs with shopping centres and main streets, there are multiple options on the doorstep of office workers. Office development hubs have minimal options. Larger occupiers in these markets have developed in-house options. At Perth Airport, the owners have established a coffee stand for the precinct. In other markets, food trucks are a regular occurrence.
Ten years on from the decentralisation of tenants to the suburbs, the amount of vacant office space in the CBD has increased to the equivalent of 10 vacant Woodside Plazas. CBD owners are upgrading properties focusing on amenity and tenant services. In the face of greater competition from Perth CBD and West Perth owners, the amenity offered in suburban locations is a key factor, along with market rents and incentives, in determining whether tenants decide to relocate or remain in suburban office locations. Providing more choice and convenience to suburban office workers will be key to retaining existing suburban tenants, ensuring balanced office vacancies in these key suburban employment hubs.
Importantly, improved suburban retail amenity will also allow me to order something different from Subway during my next data collection trip.